A variety of calendars designed for easy navigation are available in our online booking calendar software.
Daily, Weekly and Monthly Calendars
All our packages include multiple calendars to help you easily manage your appointments.
You and your staff can view and access appointments online using our day, week or month calendar views. In fact, you can also produce a basic or detailed list view for easy printing. Everyone has their favorite calendar, so we allow you to pick your default view!

Each calendar is useful in different situations. For example, Day Planners are ideal for comparing staff or room schedules side-by-side while Week Planners allow you to display the entire week's schedule for a particular staff member or room. The Month Planner provides a high level overview of your business' appointments for the month. To help you navigate between calendars quickly and efficiently, we've also created quick links so you can hop to and from at your convenience.

These online booking calendars contain a great deal of information about past and future appointments such as type of service booked, staff performing service, room booked, client name and contact info, notes, appointment status and more. All the information you need to manage your appointments is available at your fingertips.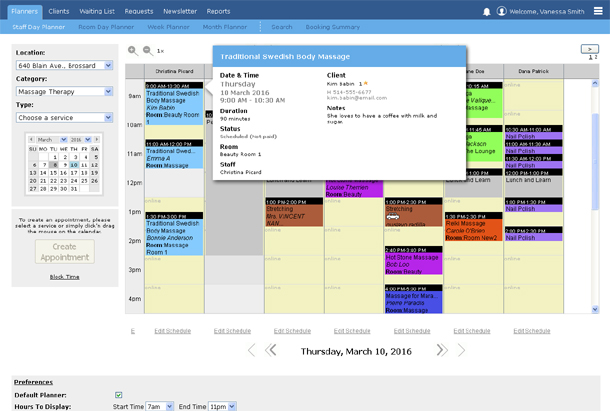 Staff Day Calendar View
A. Staff Day Calendar View
B. Room Day Calendar View
C. Week Calendar View
D. Month Calendar View
Shared Calendars that help you work as a team
Collaborative booking calendars increase productivity and help you save time.
Our calendar views display appointments in the same calendar-style format as a paper agenda with
added features
that only the web can provide. Such features include: linking to and from different calendar views as well as your customer database, displaying employee schedules and priority booking rules, performing searches to analyze appointment history, as well as generating special reports. Pre-configured scheduling rules eliminate the risk of booking errors.
Reports generated from online booking calendars
Two Types of Appointment Booking Calendars
Our appointment software includes two types of day planners so you and your employees can choose to book a service by staff or room/resource.
Our
online booking software
includes two types of booking calendars, a Staff Day Planner and a Room Day Planner for you to easily manage your appointments based on either staff availabilities or room availabilities. For example, if you have many part-time employees but don't want to have to filter through all the staff schedules each time you book an appointment, simply select the date and room and our scheduling software will show you which staff are available. Perhaps the opposite is true? If clients call-in requesting a specific employee, then use the Staff Day Planner which will automatically let you know which rooms are available at a given time. Rooms don't apply? Simply deactivate the Room Day Planner.
Whether you're navigating using our daily, weekly or monthly appointment planners, drop-down menus displaying staff and room availability will help you manage appointments more efficiently.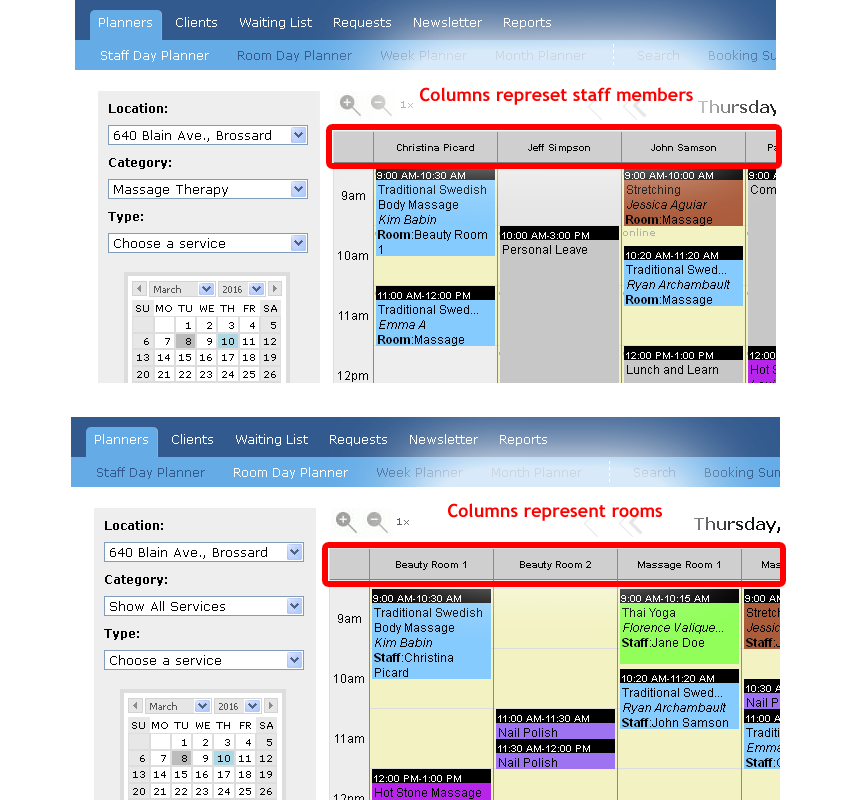 Appointment Booking Calendars