No more worrying about telephone tag, voicemail messages or unavailable receptionists. Let your clients book appointments online at anytime, even when you are unavailable to answer inquiries.
More appointments, hassle-free
Instantly accept appointments online all day, every day.
Thanks to
datedechoix.com
, clients can book appointments with you 24/7 through your dedicated booking portal.
You no longer need to worry about missing calls or being unable to check your messages. Clients can conveniently book appointments in real-time from their smartphone, tablet or computer. As a business owner, you can rest assured that your calendar is getting filled even when you are with other clients or after business hours.
Link your
client booking portal
to your website, social media pages and newsletters to promote online booking and book more appointments. You can also invite existing clients to book online using our automated email invitation. Because all our packages include
unlimited appointments
, your business can grow and grow and grow! And don't forget that the online booking portal also lets clients reserve spots for classes and workshops. In addition to appointments, our booking software can
manage classes, workshops and group sessions
.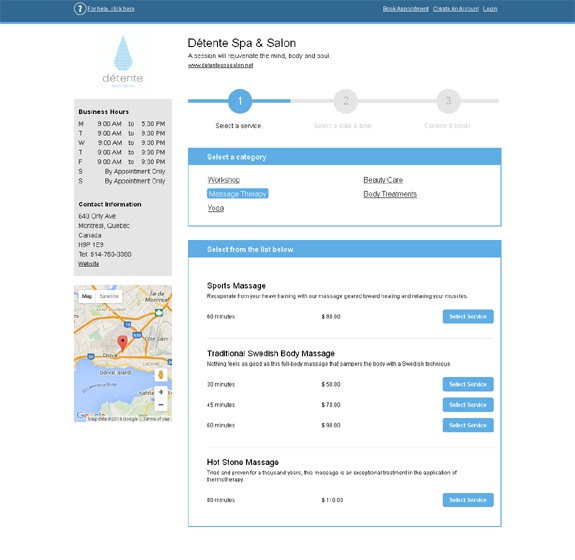 Online Appointment Booking Portal for Your Clients
A Look That Suits You
Personalize your appointment booking software to fit your brand.
Add your personal branding to your
customer booking portal
so that clients can go from your website or social media pages to your booking portal without feeling like they've left. Showcase your logo, colors, contact info and map, service descriptions, pricing, staff bios and more!
Don't have a corporate website? Your dedicated
datedechoix.com
site serves as a website that you can add to your business card or online directories. It contains all your key business information, with the added bonus of real-time appointment booking.
Customizable Online Booking Portal
Online booking software, your way
Define your scheduling rules to control when and how clients book.
Choose from a long list of scheduling rules to better control when and how clients can schedule time with you. For example, you can select what time slots are displayed and whether a clean-up time needs to automatically be added between appointments; hide your business address from email confirmations for virtual services; determine your minimum notice for online bookings or cancellations; define which rooms needs to be booked for different services; and more. With so many scheduling rules available, your personalized portal is a powerful tool making sure your calendar gets filled without double-bookings or errors, and just the way you like it.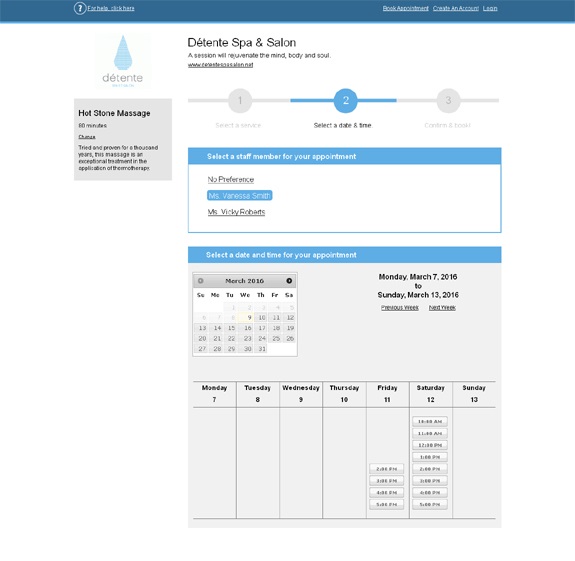 Online Booking based on Predetermined Scheduling Rules