Save time and reduce no-shows with automated appointment confirmations and reminders.
No-shows cost you money
Instantly accept appointments online all day, every day.
No-shows and last-minute cancellations are a costly problem for service-based businesses. Think about it: If you charge $60 per appointment, just 5 no-shows a week could mean an annual loss in revenue of $15,600!
Clients don't attend their appointments for many reasons. On top of that list is simply that they forgot or were unable to notify you that they could not longer attend. That's why it is important to be proactive and reach out to your client pre-appointment.
datedechoix.com
makes it easy with automated email and SMS appointment notifications.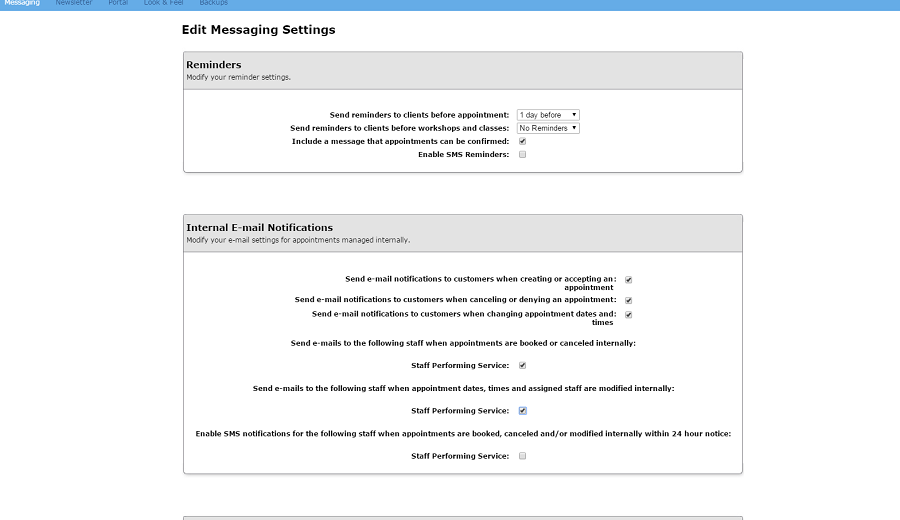 Messaging Settings
Save time and free up resources
Don't waste time and money playing phone tag with your clients.
Gone are the days of calling clients one-by-one. Emails and text messages are easy and convenient ways to reach your clients. Automating appointment confirmations and reminders saves you time and reduces no-shows. Just choose when you want the notifications to go out, sit back and let us do the work for you!

At the time of booking, a confirmation is sent including all the appointment details, and clients can easily save this information to their smartphone or personal calendar. A few days prior to the appointment, a reminder is sent to the client to confirm their attendance.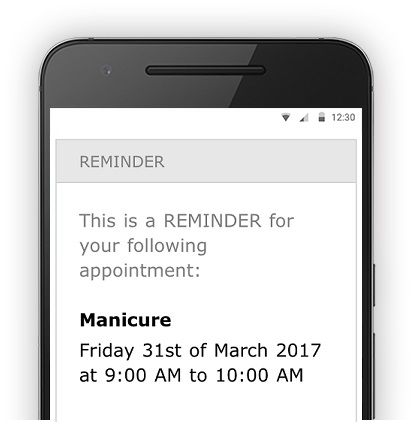 Appointment Confirmation Emails
Confirm. Confirm. Confirm.
Improve your business efficiency by getting your clients to confirm their upcoming appointment.
Being proactive and reaching out to clients to confirm their appointment is proven to reduce no shows. However, calling patients individually is extremely time-consuming and often leads to a frustrating game of telephone tag.

Luckily, clients can quickly and easily confirm their appointment by clicking the button in the email reminder. If they can no longer attend, there is also the option to cancel the appointment with sufficient notice so that you have time to fill the spot.

Clients that receive appointment text message reminders can also easily reply by sending a message via their mobile phone to confirm their attendance.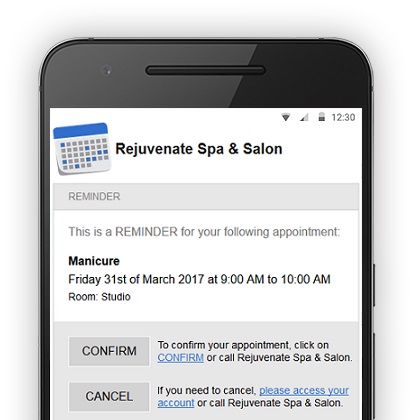 Confirm Button within Appointment Email Reminders
Real-Time Calendar Updates
A smart scheduling calendar that lets you know clients are attending their appointment.
Confirmations and cancellations are automatically updated to your calendar. Confirmed appointments get highlighted so you can easily spot those clients which have yet to confirm and take action. Cancelled appointments disappear to make room for new appointments. You can even activate automated notifications to clients on your waiting list to fill those slots pronto.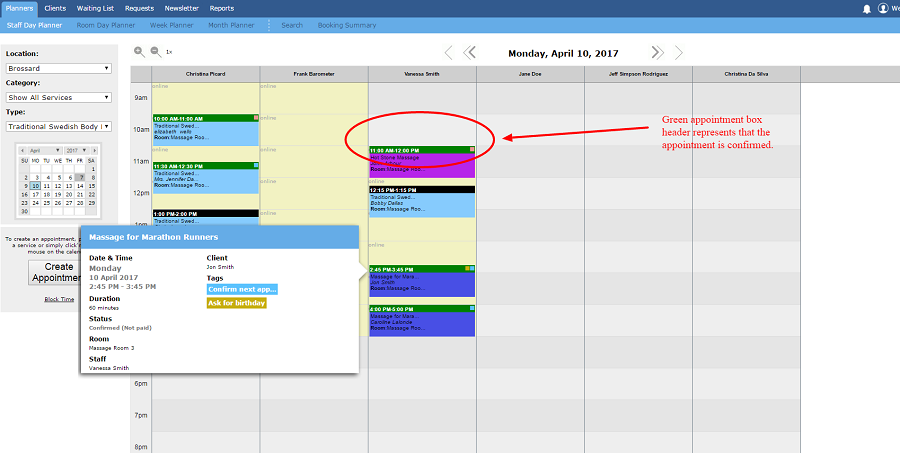 Confirmed Appointments displayed as Green within your Appointment Calendar